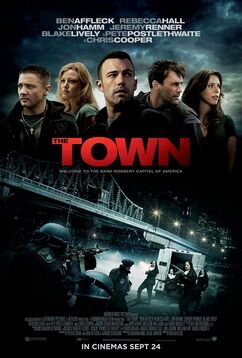 The Town is a 2010 crime thriller directed and co-written by Ben Afleck. Starring Ben Afleck, Jeremy Renner, Rebecca Hall,Jon Hamm and Blake Lively. based on the Chuck Hogan Novel: Prince of Thieves the film revolves around the bank robbing criminality of doug Macray (Ben Afleck), whom after his last job develops a relationship with the bank's manager(Hebecca Hall) , all the while a tough, determined and dedicated FBI agent (Jon Hamm) aims to bring Macray and his team down.
Ad blocker interference detected!
Wikia is a free-to-use site that makes money from advertising. We have a modified experience for viewers using ad blockers

Wikia is not accessible if you've made further modifications. Remove the custom ad blocker rule(s) and the page will load as expected.